Summary:
Raisa was only a child when she was kidnapped and enslaved in Qilara. Forced to serve in the palace of the king, she's endured hunger, abuse, and the harrowing fear of discovery: everyone knows she is Arnath, but not that Raisa is a Learned One, a part of an Arnath group educated in higher order symbols. In Qilara, this language is so fiercely protected that only the King, the Prince, and Tutors are allowed to know it. So when the current Tutor-in-training is executed for sharing the guarded language with slaves, and Raisa is chosen to replace her, Raisa knows that—although she may have a privileged position among slaves—any slip-up could mean death.
That would be challenging enough, but training alongside Prince Mati could be her real undoing. And when a romance blossoms between them, she's suddenly filled with a dangerous hope for something she never before thought possible: more. Then she's propositioned by the Resistance—an underground army of slaves—to help liberate the Arnath people. Joining the rebellion could mean freeing her people…but she'd also be aiding in the war against her beloved—an honorable man that she knows wants to help the slaves.
Working against the one she loves—and a palace full of deadly political renegades—has some heady consequences. As Raisa struggles with what's right, she unwittingly uncovers a secret that the Qilarites have long since buried…one that, unlocked, could bring the current world order to its knees.
And Raisa is the one holding the key.
Title: Sword and Verse
Author: Kathy MacMillan
Published: January 19th 2016
Rating: 5 stars
Thank-you Harper 360 on Twitter! I won this copy from them!
"I never knew Tyasha ke Demit, but her execution started everything."
Very rarely does a book of this caliber fall into one's hands. Kathy seamlessly blends romance with religion, creating a rich and vibrant world with unforgettable characters. I have truthfully never read a book that even comes close in comparison to this one because it's so very unique. Each character fitted into the story like pieces of a jigsaw puzzle, the plot flowing flawlessly from one scene to another all the way to the incredible and extremely satisfying conclusion. Even after the book ended, the story still continued with me discovering new tidbits of information that Kathy had slipped in, testing us and our ability to spot them. SWORD AND VERSE is a novel full of hidden jewels for you to discover and enjoy long after you have turned the last page.
The characters of SWORD AND VERSE are not only diverse, but they are complex and beautiful. Raisa is a character that you will instantly care for and come to admire. And as for Mati? I dare you to not fall in love with that adorable Prince. And while we're on the subject of love, i
t's certainly not often I get so emotionally invested in a book couple.
Raisa and Mati will give you heart palpitations. Their romance is an emotional roller-coaster of a ride that sometimes forced me put the book down for a moment simply because I was too afraid to read any further. Raisa and Mati. I shall ship them until the goddess reads out the scrolls.
Religion is a huge part of SWORD AND VERSE, and for someone like me who is not religious in the slightest and easily gets bored by these types of books, I was frightened. Frightened of being unable to appreciate the story due to it. But I can easily (and happily) say that even the most non-religious person will be captivated by Kathy's gods and goddesses. Their story enchanted me. SWORD AND VERSE is essentially a story within a story. And I think that's really quite magical and genius of Kathy.
Want to get even more of a
feel
of SWORD AND VERSE?
Each of these pictures represents something, someone or a place that features in the book.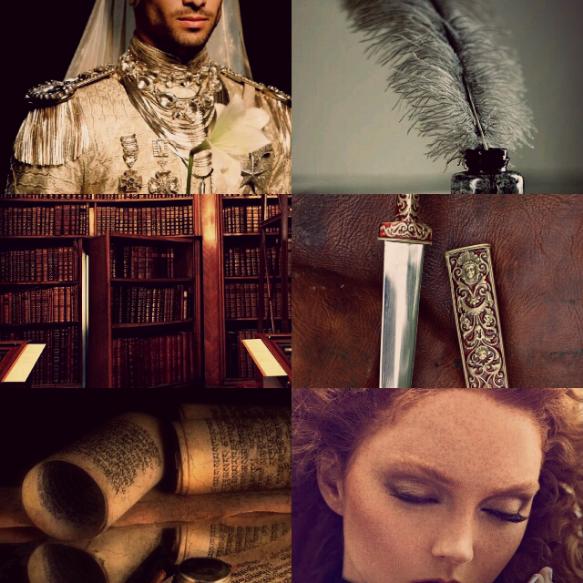 Of course, there is MUCH more in this book to talk about, but we'll save that for the longer review when release days approaches, yeah?
In short, this is a book to watch out for. I feel so very honored to be the first blogger/reviewer to read this truly beautiful piece of literature. The wait for the sequel is now on. Also, not only is this a magical book, but a #FAC16 book! 2016 is shaping up to be a killer year with such talented authors ready to burst onto the scene. If you get a chance to read this book, take it. Immediately.
Until next time, folks! For now I shall leave you with five massive, fat hearts.