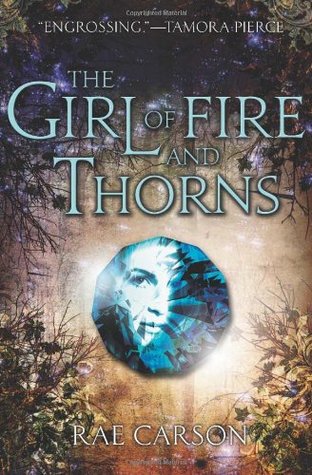 Once a century, one person is chosen for greatness.
But she is also the younger of two princesses, the one who has never done anything remarkable. She can't see how she ever will.
Now, on her sixteenth birthday, she has become the secret wife of a handsome and worldly king—a king whose country is in turmoil. A king who needs the chosen one, not a failure of a princess.
And he's not the only one who seeks her. Savage enemies seething with dark magic are hunting her. A daring, determined revolutionary thinks she could be his people's savior. And he looks at her in a way that no man has ever looked at her before. Soon it is not just her life, but her very heart that is at stake.
Elisa could be everything to those who need her most. If the prophecy is fulfilled. If she finds the power deep within herself. If she doesn't die young.
Published: September 20th 2011
I was VERY excited to read this book after hearing so many good things about it, but unfortunately, it just wasn't QUITE up to scratch.
The story revolves around a chubby princess called Elisa who, in her navel, bears the Godstone. What a Godstone is, I don't think anyone really knows just yet. I certainly don't. I kept seeing it as one of the tacky navel-piercings the girls from my old college used to have. They creep me out so much it's UNREAL.
If you dislike whiny princesses, steer clear of this book.
When Elisa isn't complaining about/thinking about how she's fat, she's whining about something else. But her character did improve as the book went on. I actually grew to like her a little when I was nearing the final few pages. But 90% of the book I spent wanting to punch her in the face. You're fat. So am I. GET OVER IT.
My problem with this book isn't Elisa, but the plot. More specifically, the pair of deaths. Far from simply shocking me, they made me mad. There just didn't seem to be ANY reason why the pair needed to die! I've no intention of reading the next two books now they're BOTH dead. They were the only ones I was slogging through the book for. There were holes in parts of the book and bits that most certainly didn't need to happen, which put me off a little more. I'm so gutted because half of this book I DID enjoy, which is why the rating isn't 2 hearts.
I did enjoy the world-building and the characters. Each one was crafted very nicely, the world intricate and vast. It's a shame that I won't be reading any further, but I don't think I can force myself through another book like that. I am so very conflicted about this book, because bits I loved, bits I hated. Gah.
Okay. One more funny picture.
Elisa is that you at the beginning of the book????